UNMASKED
I have found three instances of Occult Symbolism in WATCHMEN.
The first of these is
MOLOCH
"There was in their city a bronze image of Moloch extending its hands,
palms up and sloping toward the ground,
so that each of the children when placed thereon rolled down and fell into a sort of gaping pit filled with fire."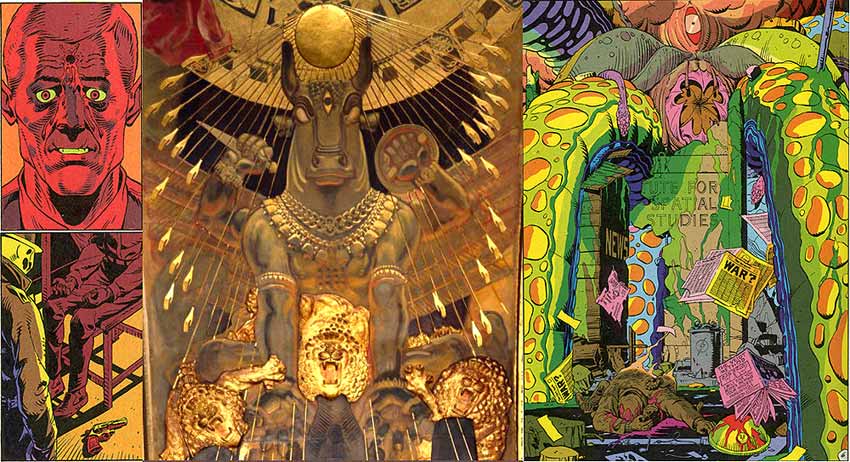 " The brazen arms were working more quickly. They paused no longer.
Every time that a child was placed in them the priests of Moloch spread out their hands upon him to burden him with the crimes of the people,
vociferating: "They are not men but oxen!" and the multitude round about repeated: "Oxen! oxen!"
The devout exclaimed: "Lord! eat!"
and the priests of Proserpine, complying through terror with the needs of Carthage, muttered the Eleusinian formula: "Pour out rain! bring forth!"
The victims, when scarcely at the edge of the opening, disappeared like a drop of water on a red-hot plate, and white smoke rose amid the great scarlet colour.
Nevertheless, the appetite of the god was not appeased. He ever wished for more. In order to furnish him with a larger supply,
the victims were piled up on his hands with a big chain above them which kept them in their place.
Some devout persons had at the beginning wished to count them, to see whether their number corresponded with the days of the solar year;
but others were brought, and it was impossible to distinguish them in the giddy motion of the horrible arms.
This lasted for a long, indefinite time until the evening. Then the partitions inside assumed a darker glow, and burning flesh could be seen.
Some even believed that they could descry hair, limbs, and whole bodies. Night fell; clouds accumulated above the Baal.
The funeral-pile, which was flameless now, formed a pyramid of coals up to his knees; completely red like a giant covered with blood,
he looked, with his head thrown back, as though he were staggering beneath the weight of his intoxication. "
- Gustav Flaubert
For those not up on this stuff (and it's a safe bet that Alan Moore is),
MOLOCH was/is the figurehead of a very ancient and horribly nihilistic religion synonymous with human sacrifice.
Followers of MOLOCH believe that there is no other judgement for our behaviour in this world than the stove, which comes to us all regardless.
The Squid is the mask behind which Moore has hidden MOLOCH.
The character of Moloch in the book is just a clue to tease you with.

Moloch the man is just a patsy.
Moore has gone to a great deal of trouble to alert you to the presence of MOLOCH, yet has kept it hidden.
Why?
In real life, MOLOCH is hidden behind The Owl.
The Owl stands in the Middle of Bohemian Grove.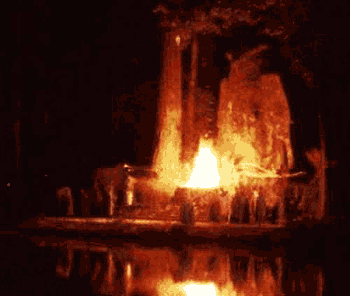 "First, Moloch, horrid King, besmeared with blood
Of human sacrifice, and parents' tears;
Though, for the noise of drums and timbrels loud,
Their children's cries unheard that passed through fire
To his grim idol. Him the Ammonite
Worshiped in Rabba and her watery plain,
In Argob and in Basan, to the stream
Of utmost Arnon. Nor content with such
Audacious neighbourhood, the wisest heart
Of Solomon he led by fraud to build
His temple right against the temple of God
On that opprobrious hill, and made his grove
The pleasant valley of Hinnom, Tophet thence
And black Gehenna called, the type of Hell."
- John Milton, Paradise Lost
***********************************************
The second instance of Occult Symbolism is
The Spear of Ithuriel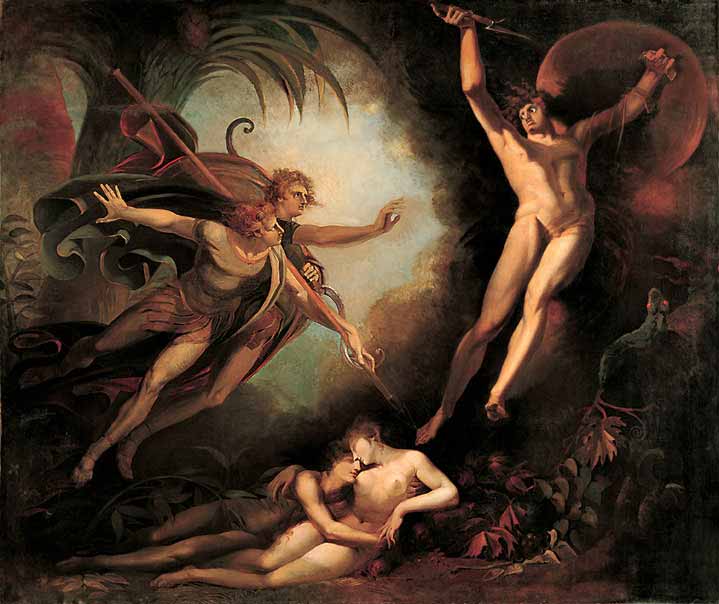 The touch of Ithuriel's Spear reveals Satan's true form
" Ithuriel and Zephon, with winged speed
Search through this garden, leave unsearched no nook;
But chiefly where those two fair creatures lodge,
Now laid perhaps asleep, secure of harm.
This evening from the sun's decline arrived,
Who tells of some infernal Spirit seen
Hitherward bent (who could have thought?) escaped
The bars of Hell, on errand bad no doubt:
Such, where ye find, seise fast, and hither bring.
So saying, on he led his radiant files,
Dazzling the moon; these to the bower direct
In search of whom they sought: Him there they found
Squat like a toad, close at the ear of Eve,
Assaying by his devilish art to reach
The organs of her fancy, and with them forge
Illusions, as he list, phantasms and dreams;
Or if, inspiring venom, he might taint
The animal spirits, that from pure blood arise
Like gentle breaths from rivers pure, thence raise
At least distempered, discontented thoughts,
Vain hopes, vain aims, inordinate desires,
Blown up with high conceits ingendering pride.
Him thus intent Ithuriel with his spear
Touched lightly; for no falshood can endure
Touch of celestial temper, but returns
Of force to its own likeness: Up he starts
Discovered and surprised. As when a spark
Lights on a heap of nitrous powder, laid
Fit for the tun some magazine to store
Against a rumoured war, the smutty grain,
With sudden blaze diffused, inflames the air;
So started up in his own shape the Fiend.
Back stept those two fair Angels, half amazed
So sudden to behold the grisly king;
Yet thus, unmoved with fear, accost him soon. "
- John Milton, Paradise Lost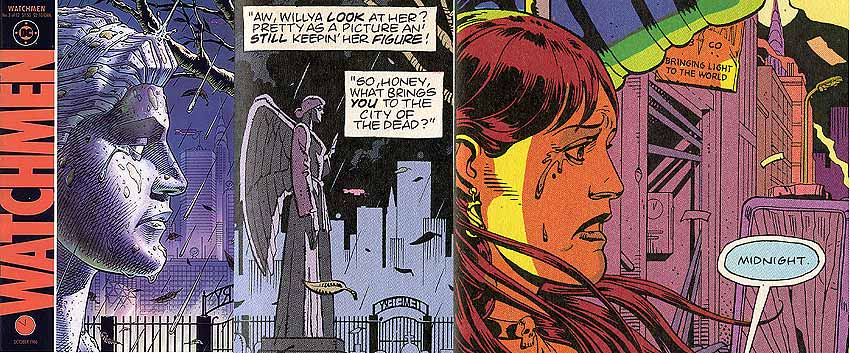 The Spear is represented in WATCHMEN by the Chrysler Building.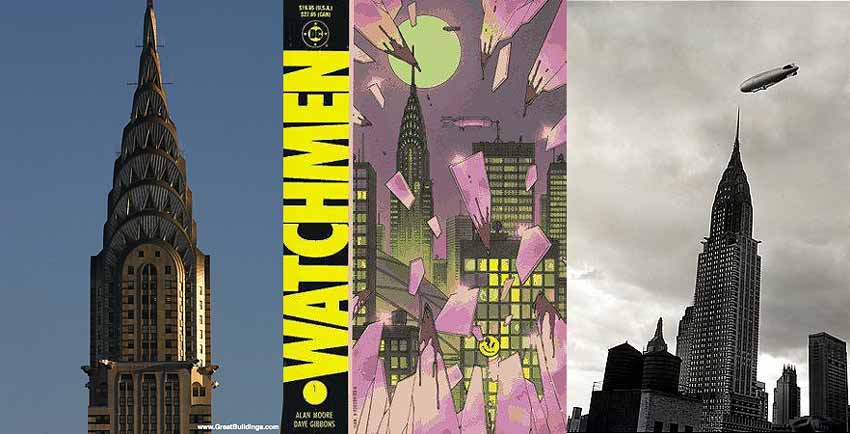 "Is the Chrysler Building an illuminist optical illusion of Ithuriel's Spear?"
***************************************
The third instance of Occult Symbolism is
Pandemonium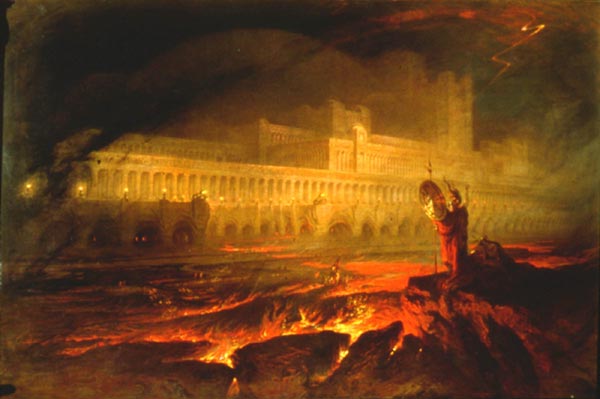 Meanwhile the winged Heralds, by command
Of sovereign power, with awful ceremony
And trumpet's sound, throughout the host proclaim
A solemn council forthwith to be held
At Pandemonium, the high capital
Of Satan and his peers.
- John Milton, Paradise Lost
*************************
OZYMANDIAS
The Plutocracy
MORAL COMPASS: MAGNETIC SOUTH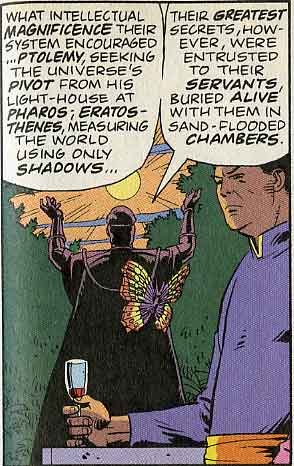 " The media inspires boredom, not waking up one Monday morning and butchering your kids.
That takes something else, man.
That takes a whole different kind of inspiration."
- Detective Steven Fine
What is the true face of Ozymandias?
Is it anything like the picture of Dorian Gray ?
Veidt has carefully crafted a public image through his private media (Nova Express), which publishes pictures of him looking beautiful, sculpted, god-like, saintly, concerned, compassionate, avuncular.
His employee, Douglas Roth, records an interview with him in which he seems facile and unthreatening in his ideas, and very fuzzywuzzy liberal-ish in his emotional make-up.
Veidt plays loose with the truth to protect his image:
"I studied his limitations."
The Adrian Veidt we see is a mask, it is not really who is there.
Everything he says is a lie.
World Peace ?
Powerful, rich, famous, handsome, intelligent, eternally youthful because he DECIDED to be ?
Ozymandias is the lunatic, world-destroying super-villain of the piece.
Megalomaniac, deluded, murderous, perverted, he sacrifices millions to MOLOCH in return for - ?

This guy is a whiz at branding and marketing, and is obviously striving to present himself as completely benevolent, when the truth is (to put it kindly), a little murkier.
After all, we do see him personally murder six people in the course of the story: his three servants, Blake, Moloch, and the assassin, who obviously has been instructed to shoot the secretary first.
And of course there's all the people on the boat, and the City of New York.
That's well into Hitler territory, right ?
Plus Bubastis and all the plants and creatures in the Vivarium.
I mean, I know he gets this little sad look on his face, but it doesn't stop him doing it.
Who does he think he's kidding ?
Us ?
Watchmen is about masks.
Rorshach is a mask.
The squid is a mask.
Ozymandias is a mask.
'At the end of the day, Watchmen is about a man who tries to trick the world into peace by faking an alien invasion.'
In the end, Watchmen is about what kind of personality would presume such God-like custody of humanity.
Really, it's an exploration of what kind of extreme personalities would actually dress up and do the hero thing.
But what about the Villains ?
On my wall, I have a page of vintage art from a 70's Marvel Team-up wherein a two-bit villain named the Basilisk STEALS THE ISLAND OF MANHATTAN.
Where do these guys get the nerve ?
How do you come up with that ?
Ozymandias is a pure sociopath, a black hole of pure evil.
He places himself above all other humans, only speaking as an equal to the genuinely god-like Dr. Manhattan.
Moore tells his entire story between the lines , as Ozy himself is completely dedicated to presenting a false picture of himself to the world, and either to himself or more likely to his security cameras.
We only see the true face of Ozymandias once in the book, in his own recollection, swollen with arousal as he murders Blake.
Ozymandias is completely aloof from all other human beings, why would he lower himself to having sex with them?
And what's with the crime-fighting thing in the first place?
Why in hell would he indulge in physical violence with a bunch of dumb brutes if he wasn't getting the same thing out of it that Hooded Justice did ?
"Nelly called last night, upset over another tiff with H.J. ...
Nelly says he's always out when Nelly calls, out with boys, and there's a lot of rough stuff going on." - Lawrence Schexnayder
"Researching my masked predecessors, I investigated the mid-fifties disappearance of Hooded Justice." - Adrian Veidt
In the mid-fifties Veidt would have been a teenager...
was Blake's murder payback for Hooded Justice ?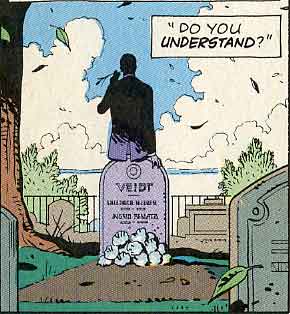 Veidt killed his own parents.
We see him insouciantly chewing a blade of grass as he sits atop the headstone that they are both buried under.
They died simultaneously somehow then.
Why is he shown throughout this recollection from the rear, his head often blackened into silouhette?
Because he is a hollow man, no-one is at home.
He then throws the money they left him away, utterly disdainful of his parents lives , their love for him, and all they had worked through their lives to achieve on his behalf.
Veidt created a completely new, highly complex and sensitive form of life from the brain of a (presumably murdered) psychic,
then killed it, turning its corpse into history's most gargantuan effigy of Moloch, and dumped the corpses of several million people at it's feet as a sacrifice .
In Veidt's New World, United and Pacified, Communism will be a thing of the past,
and there will be no obstacle to Veidt's huge interlocking network of corporations from acquiring control of the entire World's territory and resources.
And Adrian Veidt will rule the Earth.
Just like Alexander.
"That seems a callous doctrine".
Yeah, sounds like fascism.
Ozy is not so much Superman as Ubermensch.
In the end, though, despite his colossal self-importance, Veidt is just not that smart.
His insights are shallow and vacuous, his hypocrisy epic.
His plan is doomed to failure, after all.
Remember, the real ending of Watchmen is Seymour's hand reaching for the Journal.
The plot will stand revealed.
The truth will be known.
And all Hell will break loose.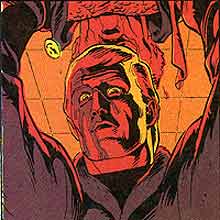 I am Ozymandias, King of Kings.
Look upon my works, ye Mighty.
And despair.
***********************
RORSCHACH
The Proletariat
MORAL COMPASS: MAGNETIC NORTH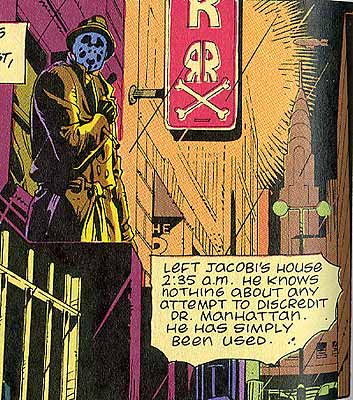 " You squidgy-nosed old idol, Gunga Din."
The uniform 'e wore
Was nothin' much before,
An' rather less than 'arf o' that be'ind,
For a piece o' twisty rag
An' a goatskin water-bag
Was all the field-equipment 'e could find.
Yes, Din! Din! Din!
You Lazarushian-leather Gunga Din!
Though I've belted you and flayed you,
By the livin' Gawd that made you,
You're a better man than I am, Gunga Din!
- Rudyard Kipling
" You come any closer, you're gonna get this in your goddamn squidgy face !"
- Roy Chess
Rorschach and the Gunga Diner both first appear in the same panel.
Rorschach is Ozymandias' opposite, an almost pathologically good person.
Rorschach is the real super hero, the only Watchman strong-willed enough to see how evil Veidt's actions are.
Walter Kovacs knows much about pain, and knows firsthand the evil of MOLOCH, was once a child in the stove.
Walter Kovacs is an intensely good person, who retreats further and further from humanity as its inhumanity reveals itself.
Rorschach's origin story is not like Veidt's (Ozymandias goes to the Museum, Ozy at the Beach); Walter Kovacs has survived the grinder.
Rorschach, the Avenger of Children, who covers his face in shame after Kitty Genovese is raped and murdered while her neighbours watch.
Rorschach, who shows his true face as he weeps by far the hardest for the victims of Veidt's crime.
Alan Moore has said that Dr. Manhattan's murder of Rorschach is a 'mercy killing'.
Ultimately, Walter Kovacs is too good for this world.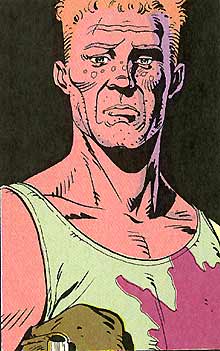 There is good and there is evil.
Evil must be punished.
Never compromise.
Not even in the face of Armageddon.
Rorschach's journal
is the Spear of Truth.
**************************************
DR. MANHATTAN
Television

MORAL COMPASS:
FROZEN AT CENTER RIGHT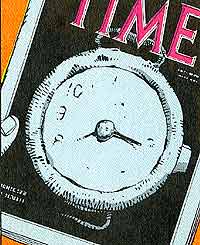 " The way he looks at things . . . this world, the real world,
to him it's like walking through mist, and all the people are
like shadows, just shadows in the fog. I mean, tonight, right?
I walked out after twenty years and y'know what I bet he's
doing? His big, emotional reaction? He's either smartening up
for his TV interview, or watching quarks get stuck to gluinos.
Maybe both. " - Laurel Jane Juspeczyk
Conquers the World for America.
Blue skin, blank screen eyes, Channel Dial on forehead.
Omniscient passive observer, except when upholding the status quo.
Rules in favour of the murderous autocratic Ozymandias over the virtuous proletariat Rorschach.
After all, Rorschach is "hardly without stain", whereas Veidt owns a whole bunch of real estate.
In doing so, he forsakes humanity.
And now, a word from Our Sponsor.
THE COMEDIAN
The Military
MORAL COMPASS: NONE
Agent of Chaos, born to be corrupted.
Bully, sadist, rapist, murderer.
Thinks he's in on the joke, but doesn't know the half of it.
Born to be expendable.
SILK SPECTRE II
The Arts
MORAL COMPASS:
North, then end over end 'til it smashes in a million pieces at the discovery that she is the bastard child of Burlesque and the Military.
Initially appalled by Veidt's crime, she is easily buffaloed into buying in.
The idea is too big to deal with , so she simply represses it.
Resolves instead to quit dressing like a stripper, live out Rambo fantasies.
NITE OWL II
Academia
MORAL COMPASS:
5 minutes Left of
MAGNETIC NORTH
Initially shocked by Veidt's crime, he is easily cowed into buying in.
The idea is too big to deal with , so he simply represses it.
Dreiberg is the second most upright person in WATCHMEN, after Rorschach.
Like Rorschach, his morality is not really adult;
but whereas Rorschach's concepts of good and evil are rooted in the childhood realities of abuse and survival,
Dreiberg's are anchored in romantic adolescent ideas about courage and heroism.
He realises that this is a shortcoming in the 'adult' world, and is embarrassed and apologetic about it.
The Owl persona is allegorical; imagine someone who had bought completely into the 'Friendly' face of the MOLOCH culture on good faith,
understanding it to be something far more benign, e.g. an Owl rather than a calf-headed god.
In having done so he is already badly compromised, and so MUST maintain silence;
like scientists working in a compartmentalised fashion on something that they will eventually be shocked to discover they have participated in, a la Shea, Manish and Paley.
******************************
TALES OF THE BLACK FREIGHTER
In our world today we are allowed to see the surface events, but are kept oblivious to the huge depths and currents which surge beneath.
We are presented with a picture of water striders buzzing busily to and fro without disturbing the surface, deliberately obscuring the monstrous leviathan creatures lurking below.
The story and performance concerning 'World Peace' that Veidt presents to his peers is just a cover story,
to obscure his real intent and allow his plans to proceed unhindered.
The real story of what Veidt has done is far more monstrous.

TALES OF THE BLACK FREIGHTER runs parallel to the main storyline, and exists mainly to indicate the presence of the third,
hidden narrative that takes place just below the surface of WATCHMEN.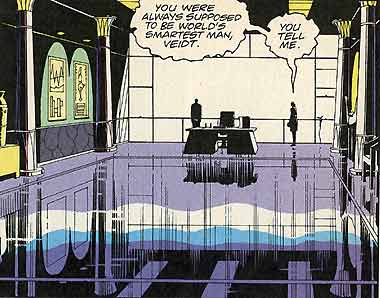 Like the Gunga Diner, the Pirate Comic storyline first appears coincidental with Rorschach, in his street clothes.
The pirate story describes Walter Kovacs' descent into madness, as he masters the horrors of his existence by becoming the most terrible thing of all,
out of a purely altruistic instinct to protect or avenge the innocent.
The title is taken from Brecht and Weill's 'Pirate Jenny', from "The 3-penny Opera".
" You people can watch while Im scrubbing these floors
And Im scrubbin' the floors while youre gawking...
But you'll never guess to who you're talkin'.
No. you couldn't ever guess to who you're talkin'. "
THE PROMETHEAN CAB COMPANY
"Bringing Light to the World".
Prometheus : Titan known for his wily intelligence, who stole fire from Zeus and gave it to mortals for their use.
Zeus then punished him for his crime by having him bound to a rock while an eagle ate his liver every day only to have it grow back to be eaten again the next day.

Frankenstein; or, The Modern Prometheus, generally known as Frankenstein, is a novel written by the British author Mary Shelley.
Frankenstein's creature (or Frankenstein's monster) as depicted by Shelley,
is a sensitive, emotional creature whose only aim is to share his life with another sentient being like himself.
The novel portrays him as immensely intelligent and literate, having read Paradise Lost, Plutarch's Lives, and The Sorrows of Young Werther.

" The psychic was the key, poor young Robert Deschaines.
I acquired his brain after death and my geneticists cloned something much bigger and more powerful from it. " - Adrian Veidt

" Did I request thee, Maker from my clay
To mould Me man? Did I solicit thee
From darkness to promote me? "
- John Milton, Paradise Lost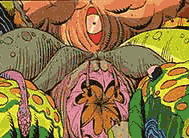 THIS ISLAND EARTH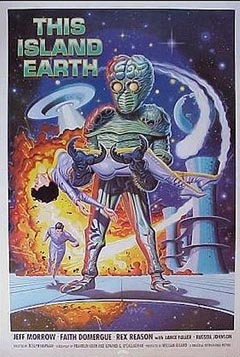 THE NEW FRONTIERSMAN
The New Frontiersman is a small, fiercely independent paper run by right-wing whack-job Hector Godfrey and his assistant, Seymour.
The New Frontiersman is apparently located at street level in the Chrysler Building.
( Follow Seymour's route back from Burger's n' Borscht on the second-last page. )
The novel ends as Seymour is about to discover that he is in possession of
'The Diary of the Vigilante Rorschach'
and publish it.
PALLAS
Astrology:
Pallas (the Roman name for the Greek Athena) shows our ability to recognize patterns, to arrange and re-arrange things.
Mythology:
Pallas' name was derived from the Greek word pallô meaning "to brandish (a spear)."
Pallas was the father of Selene the Moon.
RIDE OF THE VALKYRIES
A Valkyrie is traditionally represented as an Angel with a Spear.
SWEET CHARIOT SUGAR CUBES
"Swing Low, Sweet Chariot" was first written by Wallis Willis, a Choctaw freedman in the old Indian Territory, sometime before 1862.
He was inspired by the Red River which reminded him of the Jordan River and of the Prophet Elijah being taken to heaven by a chariot.
Elijah slew the Prophets of Ba'al, also known as Moloch.
BALLOONS
BALLOONS are ubiquitous in the skies overhead WATCHMEN.

'When the balloon goes up' is a phrase used to imply impending trouble.
This relates to the use of observation balloons in the first World War.
The sight of such a balloon going up nearly always resulted in a barrage of shells following soon after.
The expression was re-inforced during WWII when the hoisting of barrage balloons was part of the preparations for an air raid.
In Watchmen the zeppelins often indicate, or indicate the presence of, relevant symbolism within the panel.
OBELISKS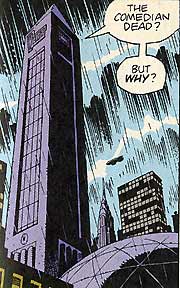 2 Kings 10:26-27 - " And they brought out the pillars (massebahs) of the house of the Ba'al and burned them.
And they pulled down the pillar (massebah) of the Ba'al and pulled down the house of the Ba'al and turned it into a latrine until this day."
(Translated as 'image' in the King James, it is more appropriately translated obelisk or pillar.)
KARNAK
' Although badly ruined, no site in Egypt is more impressive than Karnak.
It is the largest temple complex ever built by man, and represents the combined achievement of many generations of ancient builders.
...Beyond this obelisk is the only remaining Obelisk of Hatshepsut (1473-1458 BC).
It is 97 feet (29.6m) high and weighs approximately 320 tons.
Besides the Lateran obelisk in Rome, this is the tallest standing obelisk.
The inscription on the obelisk says,

"O ye people who see this monument in years to come and speak of that which I have made, beware lest you say,
'I know not why it was done'.
I did it because I wished to make a gift for my father Amun, and to gild them with electrum." '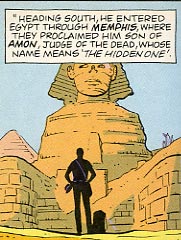 SKULL AND BONES

BEATLE BOOTS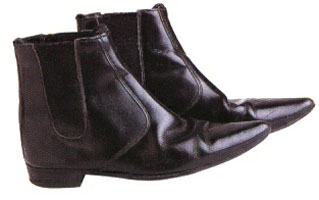 This constant reminder of the year 1963 is never far from the action.
Almost every male character in WATCHMEN wears the distinctive footwear, another generational touchstone.

Everyone who is old enough to remember 1963 remembers where they were and what they were doing when Kennedy was shot.
I'll lay even money that Alan Moore was standing in a pair of these things.
I'll bet he spent the rest of the day walking around in the rain.
Because that's what I did on December 8th, 1980.
" I'm just scared. Because everything feels WEIRD. It's as if EVERYTHING's changed. Not just you; EVERYTHING." - Janey Slater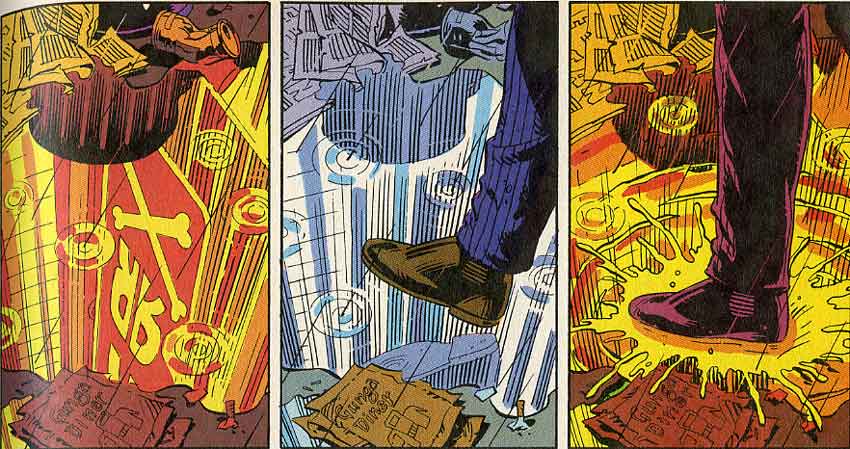 " The world I'd tried to save was lost beyond recall. I was a Horror: amongst horrors must I dwell. "

THE TITLE
"President Ford ? A job like this is just not his style."

"Reds have been running scared since '65."

"He's got the next election in the bag for sure".

"Failed to prevent JFK's assassination"

"It's November 22nd..."
"In Dallas, his head snaps forward and then back.
Two shots..."

"You knew he'd get shot ?
Why didn't you do something?"

- Comedian: "Just don't ask where I was when I heard about JFK."
- G. Gordon Liddy: "Hahaha!"
- 3rd Man: "That's good. Dick'll love that."

" Still, I observed Blake over the years...know what?
He was in Dallas, minding Nixon the day Kennedy died. No-one's sure why Nixon was there. Ever read JFK's intended speech?
'We, in this generation, in this nation, are by destiny, rather than by choice, the Watchmen on the walls of World Freedom'".
We, in this generation...ARE THE WATCHMEN
ALAN MOORE
Alan Moore was born November 18, 1953 in Northampton, England, an industrial town between London and Birmingham.
The oldest son of brewery worker Ernest Moore and printer Sylvia Doreen,
Moore's childhood and youth were influenced by the poverty of his family and their environment
(as well as the eccentricities of his highly religious and superstitious grandmother).
He was expelled from a conservative secondary school and was not accepted at any other school.
In 1971, Moore was unemployed, with no job qualifications whatsoever.
FROM HELL
In FROM HELL, Moore's first major post-Watchmen work,
he portrays Jack The Ripper as a high-ranking Mason enacting a black magic ritual in order to affect the couse of history.
I believe that WATCHMEN is essentially the same story, just below the surface.

GENESIS 18:25
16 And when the men rose up from thence, they turned their eyes towards Sodom: and Abraham walked with them, bringing them on the way.
17 And the Lord said: Can I hide from Abraham what I am about to do:
18 Seeing he shall become a great and mighty nation, and in him all the nations of the earth shall be blessed?
19 For I know that he will command his children, and his household after him, to keep the way of the Lord, and do judgment and justice: that for Abraham's sake, the Lord may bring to effect all the things he has spoken unto him.
20 And the Lord said: The cry of Sodom and Gomorrha is multiplied, and their sin has become exceedingly grievous.
21 I will go down and see whether they have done according to the cry that has come to me; or whether it be not so, that I may know.
22 And they turned themselves from thence, and went their way to Sodom: but Abraham as yet stood before the Lord.
23 And drawing near, he said: Will you destroy the just with the wicked?
24 If there be fifty just men in the city, shall they perish withal? And will you not spare that place for the sake of the fifty just, if they be therein?
25 Far be it from you to do this thing, and to slay the just with the wicked, and for the just to be in like case as the wicked; this is not beseeming you: Shall not the Judge of all the earth do right?
26 And the Lord said to him: If I find in Sodom fifty just within the city, I will spare the whole place for their sake.
27 And Abraham answered, and said: Seeing I have once begun, I will speak to my Lord, whereas I am dust and ashes.
28 What if there be five less than fifty just persons? Will you for five and forty destroy the whole city: And he said: I will not destroy it, if I find five and forty.
29 And again he said to him: But if forty be found there, what will you do? He said: I will not destroy it for the sake of forty.
30 Lord, says he, be not angry, I beseech you, if I speak: What if thirty shall be found there? He answered: I will not do it, if I find thirty there.
31 Seeing, says he, I have once begun, I will speak to my Lord: What if twenty be found there? He said: I will not destroy it for the sake of twenty.
32 I beseech you, says he, be not angry, Lord, if I speak yet once more: What if ten shall be found there? And he said: I will not destroy it for the sake of ten.
33 And the Lord departed, after he had left speaking to Abraham: and Abraham returned to his place.
CONCLUSION:
This universe contains no more Moral Order than what we choose, through sheer force of will, to impose upon it.
WATCHMEN is like a Rorschach Test. What do you see when you look at it ?
Do you have the courage to look RIGHT AT IT ?

I believe that WATCHMEN is a veiled description of the deformation of society that accompanies Deep Events,
hidden so as to protect it from THE TABOO.
How can a society find its way forward if it no longer knows which way is up ?
Imagine a world where the most truthful of purpose, the most honest at heart,
the best and most generous among us are vilified as lunatics and driven to the margins of society.
Where the justice system will not promote Justices who do not find in favour of falsehood.
Where no scientist or engineer has credibility unless he is willing to deny the facts of physical law.
Imagine a world where the phase of the moon never changes.
Imagine a world of endless night.

I was born in 1962, and since I was a kid, it has been my impression that the world we know, the houses and the cars and the trees and the people ,
are just painted on a backdrop, and every once in a while I see the curtain move as the beast reaches out for another victim.
Most people pretend not to see the beast, and maybe they don't. They can't deal with the idea of it, so they don't let themselves see it.
But you can't fool all the people all of the time.
In 1963, JFK was assassinated by a man who claimed to be a patsy before being shot himself.
The term Conspiracy Theorist was coined at that time as a designation for anyone who did not accept the official explanation of this.
A schism formed in society between people who accepted the explanation and those who didn't.
Those who did continued to cut their hair square and support the war in Southeast Asia.
Those who didn't said fuck this, we reject you, we reject your frightened, lying society, your docile, sheep-like culture.
We will make our own world and live in it.
These people were called the hippies.
Alan Moore strikes me as both a hippy and a conspiracy theorist, although maybe I'm reading too much into his work.
But probably, like the rest of his generation, he has spent his life obsessing over the mystery of JFK's murder, and those that followed.
When I was young the hippies were everywhere, it seemed; they were were smart, they were angry, they were still young and they were very, very, beautiful.
The media has spent the entire intervening time teaching you that the hippies were all some witless "oh wow, dude" stereotype, but Alan Moore is more like the hippies I remember.
Watchmen is very much a hippy's view of the society they rejected.
The Rastafarians would call it Babylon.
On the morning of September 11th, 2001 A.D., I was not working .
On my day off, my mother phones me at 7:00 PST to wake me up:
"Something incredible is happening".
When the first tower came down, I saw the beast more clearly than I have ever seen it,
and yes, for a moment it looked just like a giant octopus driving this giant building straight down DIRECTLY THROUGH THE PATH OF GREATEST RESISTANCE LIKE A NAIL.
And I thought, "It's Chapter Twelve of Watchmen.
It's a stunt, a gag, a hoax.
Someone has done this thing to fool us all again.
Who?
WHO HAS DONE THIS THING TO ME ?
GET UPGETUPGETUP
The Hour of the Angel
From "Land and Sea Tales" (1919-1923)
Sooner or late--in earnest or in jest --
(But the stakes are no jest) Ithuriel's Hour
Will spring on us, for the first time, the test
Of our sole unbacked competence and power
Up to the limit of our years and dower
Of judgment--or beyond. But here we have
Prepared long since our garland or our grave.
For, at that hour, the sum of all our past,
Act, habit, thought, and passion, shall be cast

In one addition, be it more or less,
And as that reading runs so shall we do;
Meeting, astounded, victory at the last,
Or, first and last, our own unworthiness.
And none can change us though they die to save!
- Rudyard Kipling
I leave it entirely in your hands.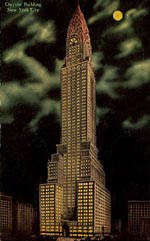 I AM AVENGING WORLD
22 10 08
Watchmen, Alan Moore, Zack Snyder, the Squid, Rorschach, Nite Owl, Ozymandias, Moloch, Silk Spectre, Comedian, Dr. Manhattan, Tales of the Black Freighter, the Chrysler Building, Spear of Ithuriel, Ithuriel, Bohemian Grove, Beatle Boots, JFK, RFK, MLK, Deep Events, conspiracy theory, riddle, solution, answer, enigma, mystery, solved, revealed, analysis, Truth, Max Shea, Hira Manish, Steve Ditko, Walter Joseph Kovacs, Adrian Veidt, Edward Blake, Daniel Dreiberg, Jon Osterman, Wally Weaver, Moloch the Mystic, Pallas, Prometheus, From Hell, Masonic Symbolism, Occult Symbolism,
Masonic Symbols, Occult Symbols, Moloch, Illuminati, John Lennon, John F. Kennedy, assassination, conspiracy, conspiracy theory, 9-11, 9-11 Truth, secret, mystery religion, Glycol, Mothman, Owlman, Alex Jones, Skull and Bones, Skull & Bones, G.W. Bush, G.H.W. Bush, George Bush,
C.I.A., CIA, plot, storyline, allegory, WATCHMEN UNMASKED